The Top 3 Free Investment Services I Recommend: http://taughttoprofit.com/the-top-3-free-investment-services-i-recommend/ Books The May Help You: The Little Book of Common Sense Investing: The Only Way to Guarantee...
Invest in Electroneum now: https://my.electroneum.com/join/9E6438 Music Credit: "Relaxing Piano Music" Kevin MacLeod (incompetech.com) Licensed under Creative Commons: By Attribution 3.0 License http://creativecommons.org/licenses/by/3.0/
Learn more about Daymond John: The Power of Broke: How Empty Pockets, a Tight Budget, and a Hunger for Success Can Become Your Greatest Competitive...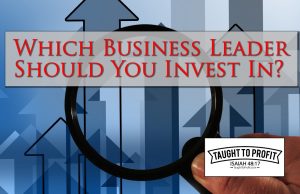 Learn more about investing: THE ENTREPRENEURIAL BIBLE TO VENTURE CAPITAL: Inside Secrets from the Leaders in the Startup Game: http://amzn.to/2wvTeq6 Inside Secrets to Angel Investing: Step-by-Step...
Many do not realize that they have a consumer mindset and it causes them to always need the latest and greatest thing, to buy...