OAXray is an online arbitrage sourcing tool that literally saves you countless hours of time that would be spent retrieving data for each item on a site. OAXray is a extension that does hours of online sourcing work in a single click.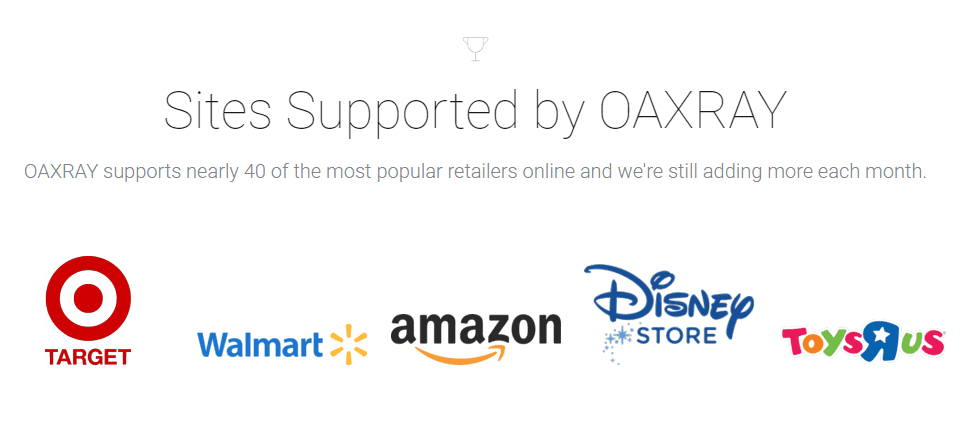 If you are on any of the over 50 sites OAXray supports and want to research all 50 items on a particular page, how do you do this? The manual way of researching those 50 items would take you probably two hours at least to get sales rank, calculate ROI, see what the lowest FBA seller is selling for, compare with numerous other sites for the lowest price, and much more. If you have done any online arbitrage at all then you know that two hours is probably a low estimate of how long it would take to get all that information about 50 items. I just tested it right now, and for 59 items on a page at Walmart.com I clicked the OAXray button and about 30 seconds later I had all that information and more for those 59 items.
In a real world scenario if none of the items on that page had a good return on investment, then you would have just wasted over 2 hours of your life and have no items with any profit potential to show for it. With OAXray you would have spent 30 seconds and determined nothing was worth buying, and then you could move on to the next page of items to research. It is also worth noting that you can have OAXray researching multiple pages at one time, so you do not have to wait for the results in order to move on to the next page to research. It will open a new tab for each page you are scanning with OAXray.
OAXray scans the page you are on, and then finds a treasure trove of information that enables you in a glance to see what items are worth buying for resale and what items should be skipped. It has features like a Buy List, where you can add each item you find with one click to the list, and even export that list into an CSV file. Below is an example of the results it shows:

Keep in mind that this is only part of the data it pulled, and this is from a single click and about 30 seconds of time. You can see how in a glance you would be able to tell what to buy or not buy and then you can move on to researching the next page. You can research thousands of items in the time it would take you to research dozens manually. This is a huge benefit for people who do online arbitrage or who are considering it. The biggest reason I hear from people about why they do not do online arbitrage is they do not find anything worth buying and it takes too long to find profitable items. With OAXray you can find items that are profitable in a matter of minutes, and also filter out a lot of items that are not going to be profitable.
If you are interested in OAXray then please go to them through our link below. We have partnered with OAXray to get you a free trial that is double the normal free trial time. You will find out real quickly how OAXray can immediately revolutionize your online arbitrage experience and increase your productivity by 1000's of percent.